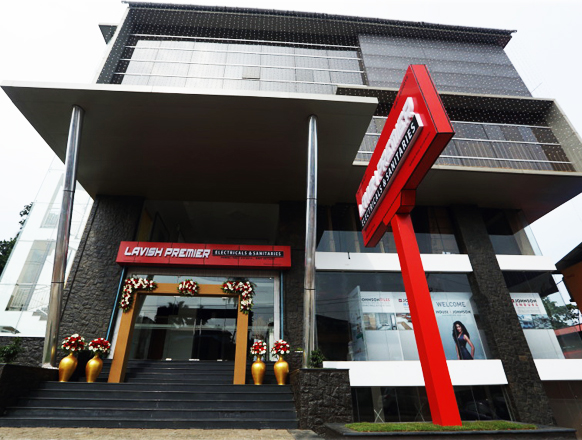 LAVISH PREMIERS is a stellar lifestyle retail distributors who brings to you; European luxurious bathroom design products, elegant and contemporary kitchen and bathroom accessories and a modest collection of beautiful designer tiles, all inside one parapet.
OUR founder T. L. Ouseph is the brain behind the whole organisation. He is a successful entrepreneur, a good leader and an owner of a great heart. It is these qualities of him that brought this organisation its grand success.
Lavish had its foundation at Thrissur in 1989. Then on it has spread its wings all over Thrissur and Kunnamkulam. At Thrissur we have Link lines Electricals, Lavish Electricals and sanitaries and Lavish Home styles. And here in Kunnamkulam we have Lavish Electricals and Lavish Premiers.
Lavish Premiers was officially inaugurated on Jan 2nd 2016, by our honourable minister A. C. Moideen, under the guidance of Municipality Chairman Sita Ravindran and blessed by Rev. Father Davis Chirammel. Since then we have been prospering under the guidance of our General Manager Mr. Franz Vakayil.
In our showroom we have a great collection of tiles, sanitaries, Cp fittings, electricals etc. We retail some major brands like Johnson, Kajaria, AGL, etc. for tiles, Jaquar, Parryware, Glocera etc. for Sanitaries and Crompton, Myrius, Khaitan, etc for electricals. We do make sure that we produce the best for our customers. And have a very supportive and friendly staff waiting to offer their support.